We Print
Looking for an affordable but extremely high quality printing company? Congrats–you found it!
Our press room houses nothing but the best sheet-fed equipment in the marketplace.  With almost a dozen different printing machines of various configurations at the ready, we literally have all the capability you need under one roof.  That means you get an impressive finished product at just the right price!
We now have the versatility to print instantly cured inks using the latest LED-UV technology on a variety of substrates for your high end packaging project or to run one and two colors on your newly created identity project. Or both. And, frankly, anything else you want printed. Except money. That we don't print. Even for you.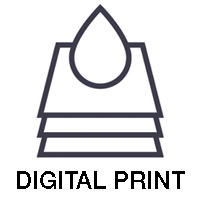 Need smaller quantities or variable PRINT while still maintaining that higher quality? We have you covered there as well. Our digital department is comprised of 3 digital presses. Black and White? No problem. Full color with an extra bonus of having a spot clear or opaque white applied? Yep, we can do that too. These workhorses are the answer to your quick turn projects, prototypes, and even (are you ready for this?) full color envelopes.
If you do, we're here for you.  Let our eco friendly wide-format LED UV printer take the load off. LED-UV inks cure instantly, so there are endless possibilities for projects that look great both indoors and out. Our equipment is perfect for completing that POP project you've spent so much time creating.